Grand Prize Winners Of The 2016 National Love My Credit Union Campaign Donates Cash Awards To Charity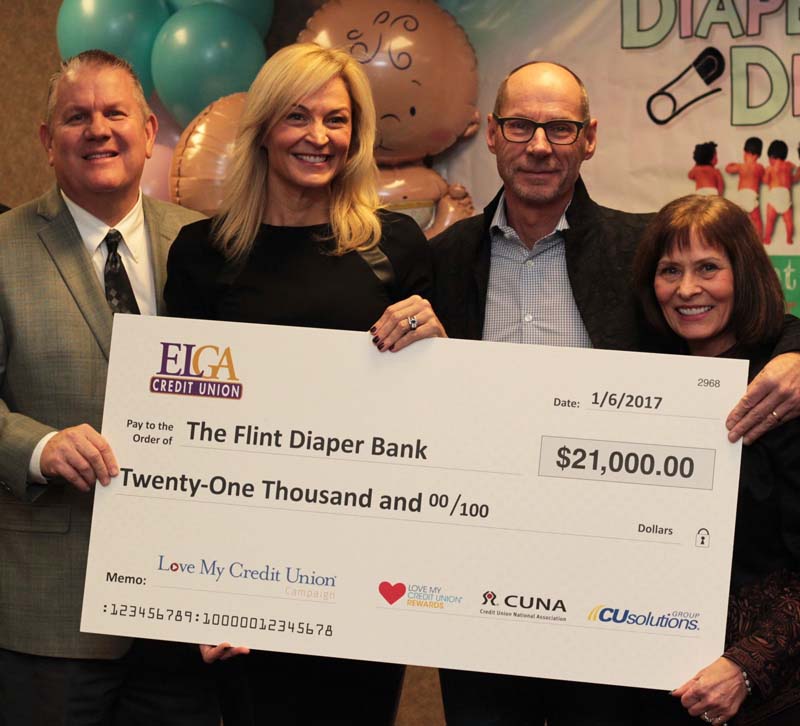 Photo Left to Right: Drew Egan (CU Solutions Group), Angela Hendershot (ABC12), Philip Shaltz (The Flint Diaper Bank), Karen Church (ELGA Credit Union)
Livonia, MI (January 16, 2017) — The ELGA Credit Union near Flint, Michigan, the Georgia Credit Union Affiliates and their selected charities* are the grand prize winners in the national 2016 Love My Credit Union® Campaign. From October 1 through December 16, 2016, more than 395,300 public votes were cast as part of the national contest, with 99 credit unions across 30 states participating in the campaign.
The Love My Credit Union® Campaign is an annual national video contest among credit unions on behalf of their selected charities or community organizations, hosted by CU Solutions Group and its member rewards program, Love My Credit Union® Rewards. Winners are selected by popular vote in a variety of categories. The Love My Credit Union® Campaign has awarded tens of thousands of dollars to credit unions and their selected charities across the country.
"The Love My Credit Union® Campaign highlights the special relationships and impact that credit unions have in their local communities," said Dave Adams, CEO of CU Solutions Group. "The videos submitted really demonstrate that 'people helping people' is a core mission for credit unions in their communities in addition to a dedication to serving their members with financial education and other consumer-friendly services."
2016 Grand Prize Winner: ELGA Credit Union in Michigan submitted a video about the Flint TV affiliate ABC12 Diaper Drive to benefit The Flint Diaper Bank as their charity of choice. The Flint Diaper Bank has provided approximately four million diapers for babies in Genesee County, Michigan since the nonprofit was formed in 2012. A total of 50,682 individual votes were cast for ELGA Credit Union and its support of The Flint Diaper Bank. As a result, ELGA Credit Union was able to award $21,000 to this charity. New diapers are distributed by The Flint Diaper Bank along with clean water to residents affected by the Flint water crisis.
"It's hard for many to understand that families in crisis often can't afford clean diapers for their babies," said ELGA Credit Union CEO Karen Church. "Our credit union employees see the practical needs of families in our community and participated with passion in this campaign to bring additional funds to The Flint Diaper Bank. We are so proud to be grand prize winners of the Love My Credit Union® Campaign, proud of our staff, our members and the community that brought home this win."
Grand Prize Winner: The Love My Credit Union® Campaign awarded $15,000 to the Children's Miracle Network – Children's Healthcare of Atlanta on behalf of Georgia Credit Union Affiliates in the credit union support organization category. Their video received more than 14,500 votes.
"Children's Miracle Network is excited that Georgia Credit Union Affiliates chose our local children's hospital, Children's Healthcare of Atlanta, as the recipient of this generous donation. It will help Children's to carry out our mission: to make kids better today and healthier tomorrow," said Brittany Wilson, program coordinator of Children's Miracle Network Hospitals.
Five consumers across the nation who voted received a cash award for themselves and a cash award for the charity of their choice. In addition, a total of eight credit unions in four asset categories won $5,000 each for their charities in October and November.
All videos, including winners in each category and details on the campaign selection process can be found at VoteLoveMyCU.org.
About the Love My Credit Union® Campaign:
The Love My Credit Union Campaign is a joint venture between CU Solutions Group and its member rewards program, Love My Credit Union® Rewards, in conjunction with the Credit Union National Association.
About CU Solutions Group:
CU Solutions Group is a credit union service organization that serves the credit union industry by offering solutions in technology, marketing and performance solutions. The company's dedication to the credit union mission is reflected through service excellence to nearly 4,000 credit union clients across the country. CU Solutions Group is the home of the well-known credit union industry program Love My Credit Union® Rewards. Learn more at CUSolutionsGroup.com
*Charity must be a 501(c)(3)