Anticipate and Pinpoint Risk-Based Compliance Issues Before They Become a Problem
Is your credit union finding it challenging to keep up with the complexities of regulatory risk management? You need a cost-effective solution that offers the same or greater oversight that consulting and accounting firms provide. AffirmX's patented risk management and compliance technology, the AffirmX Risk Intel Platform, is designed to help credit unions seamlessly comply with laws and regulations and addresses emerging risks at a fraction of the cost that consulting and accounting firms charge.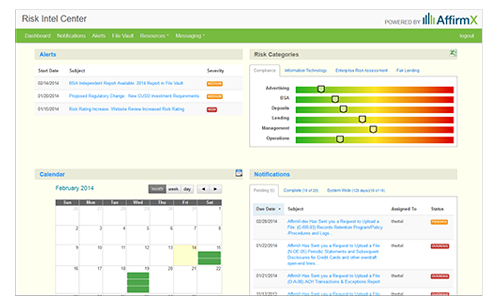 Helping your credit union reduce risk management workloads, anxieties and costs
As an industry-leading risk management service provider, AffirmX provides clients with prioritized, relevant and timely information and analyses to improve performance across the organization. The AffirmX Risk Intel Platform is a risk intelligence, cloud-based platform that systemically helps you stay current with laws and regulations by delivering a suite of risk management tools to reduce the costs, workloads and anxieties associated with proactive risk management in the ever-changing world of regulatory compliance.
The AffirmX Risk Intel Platform is your go-to source to convert regulations into business practices and help better position you to meet examiner expectations. This industry-leading solution draws on internal and external sources to develop risk-based priorities. It is branded to your credit union and customized to meet your individual needs. It combines self-reported risk assessments with analysis by compliance and risk experts to determine your credit union's risk profile. This risk profile is used to create your compliance management workflow that is displayed on your credit union's risk-based dashboard. This all-inclusive risk management platform will save you time and angst by quickly identifying vulnerabilities and streamlining compliance management practices across the enterprise.
AffirmX offers the following solutions to manage risk and regulatory compliance:
We are here to help! Schedule a live demo by visiting
Info@CURiskIntelligence.com