Mitigating fraud so your members can have peace of mind
Your members are looking to you to keep their money and information safe from data breaches. We provide a highly secure platform to help you deliver extra protection. Orpheus Online Banking is optimized for multiple platforms, including Windows and OS X, and offers advanced encryption options.
With the steady rise in high-profile cyberattacks over the last few years, credit unions need a flexible security system where their members can transfer funds or pay bills online, from their computer or mobile device, without worry. Orpheus Online Banking is easy to navigate and safeguards banking online or from a mobile device. Take the step that reduces risk while increasing member loyalty.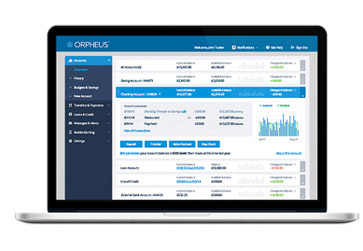 Features/Benefits:
Highly secure system to bank online or from mobile device
Optimized for multiple platforms (Windows & OS X)
Advanced encryption options
User-friendly