With SilverCloud products, you can transform obsolete, manual methods with answers that are easy to find, follow, and manage. We automate the creation, management and delivery of support knowledge so you can:

Streamline support and product experiences
Reduce support costs and complaints
Elevate employee confidence and productivity
AUTOMATE MEMBER SUPPORT WITH A CHATBOT
SilverCloud Chatbot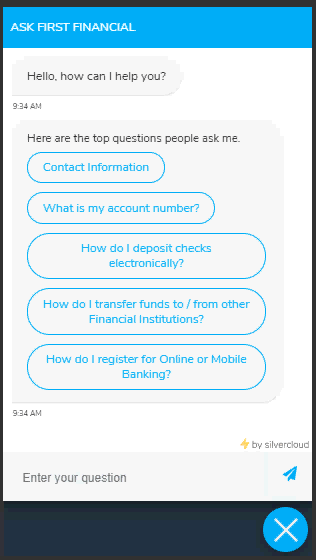 Meet the SilverCloud Chatbot - the most robust banking chatbot that delivers 24/7 automated support. A.I. powered, with over 15 million annual banking queries, it knows what your members are asking. It provides common and critical information like:
Changing a password
Exploring deposit or loan products
Simplifying online account opening
UNIFY, MANAGE AND DELIVER AUTOMATED SUPPORT
SilverCloud offers engaging journeys across your mobile, chat, and web platforms to create a complete self-service solution, including:
Decreasing contact center inquires (calls, emails and chats)
Increasing product engagement
Delivering a better member experience
MAKE EVERY EMPLOYEE A SUBJECT MATTER EXPERT
Centralize all of your policies, procedures, documentation, product information, and forms into a single web-based portal that is easy to use, manage, and always up to date with the following benefits:
Improve service levels
Deliver consistent knowledge across your institution
Decrease training hours & resources
Find out more about how SilverCloud provides support for your members and employees by calling 800.262.6285 or emailing info@CUSolutionsGroup.com
CU Solutions Group
CU Solutions Group is an award-winning credit union service organization that offers products and services in the areas of technology, marketing, HR performance and strategic advisory, which include web services, mobile app solutions, digital advertising, Save To Win, Love My Credit Union Rewards, Performance Pro and Compease. The company has more than 100 investors comprised of credit unions, credit union leagues and credit union system organizations. Headquartered in Livonia, Mich., the organization has strategic partnerships with Sprint, Intuit TurboTax®, GSTV and CU Risk Intelligence.
38695 W. Seven Mile Road, Suite 200
Livonia
Michigan
48152-7097
United States