Anticipating Change with a Succession Plan
strategy

All leaders eventually part ways with their credit union. It's inevitable. People retire or move on. It's vital that all credit unions, regardless of size, have a succession plan, because filling the bench with the right leadership can transform your credit union from mediocre to exceptional.

The lack of a succession plan can play a role in forcing the hand of unintended consequences such as pursuing a merger and acquisition (M&A) opportunity. CU Solutions Group's Strategic Advisor Eric Schornhorst partners with credit unions all over the country developing strategies to boost engagement and productivity as they undergo transitional change.
"In some cases, succession planning is not a priority for a credit union, and they find themselves in a situation where they are unprepared for a CEO's departure," Schornhorst says. "This can lead an organization to feel that a merger may be a better option than replacing a CEO."
Transitional planning is essential if your credit union is contemplating or undergoing this transformative change. If an M&A is decided as the best option, an M&A preparedness plan underscores all the logistics to execute a successful merger, including:
The terms
Trade-offs
Assigning a point person to oversee negotiations
Staff impact
Operations
Resources
Loan portfolios
Financials
Partnerships
Products and services
Due diligence
However, be prepared to anticipate challenges along the way, even with a plan. During and after a merger, inevitably there will be tension and uncertainty in the workplace. Employees will question who will stay and who will go, what positions will be eliminated altogether and if there will be changes to pay or benefits.

It is paramount to address these valid concerns through a clearly articulated transition plan, then follow up with staff periodically to allay fears and minimize culture shock. After all, merging two organizations that have conducted business differently can invite frustration, lower morale and possible employee turnover.

Providing strategic and consistent messaging can be one effective way of improving loyalty and trust. Communicate clearly, openly and frequently by developing a comprehensive communication plan. This proactive strategy should make provision for a communications team as the delegate to prepare messages for employees and members and to design a timeline for delivering announcements.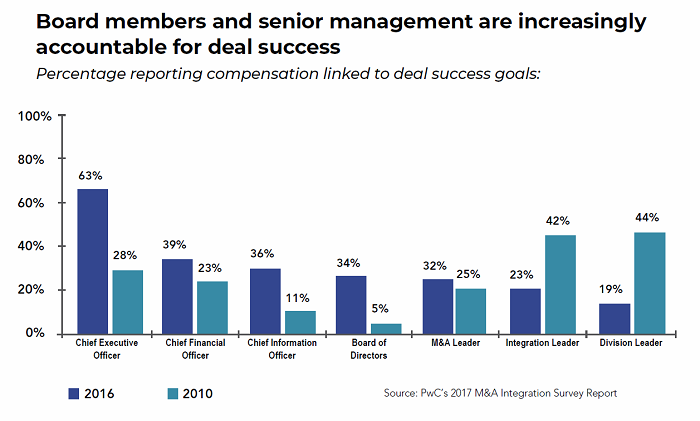 It is critical that leadership communications are intentional, transparent, positive and timely. If employees see all levels of leaders working to unify the team by developing a cohesive culture, the lower the turnover will be.

While M&A oversight is a grueling, time-consuming process that requires stamina, resources and energy, retaining an independent third-party would help with the heavy lifting before, during and after the deal. Hiring subject-matter experts in navigating the M&A process would go a long way to ensure a smoother transition as they conduct due diligence and delve into the essentials, including: terms, scope, governance, CEOs, elections, staff, regulatory compliance, integration, communication and sustainability.

Succession planning can help your credit union be more competitive with fresh perspective at the helm and is a sound investment in your sustainability. The exercise strengthens core values, energizes the organization and holds leadership more accountable. But to integrate an effective succession management plan, there needs to be a dotted line between what an organization values as non-negotiable competencies and the core strategies of the organization.
« Return to "Trends"