Strengthen member relationships by offering discounts on TurboTax.
Your members don't need to be a tax expert to get their taxes done right. With
TurboTax
, your members will get their taxes done right with 100% accurate calculations and their biggest possible refund, guaranteed! And your members can
save up to $15
on TurboTax products.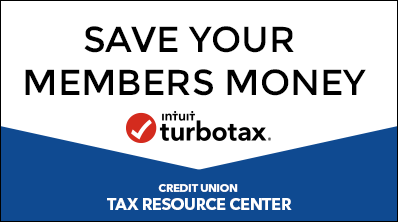 Join us for an upcoming webinar to learn how the TurboTax program is great for your members and credit union. Click on a link below to register:
Can't attend one of our live webinars?
Click here to request information from the webinar.
Great For Your Credit Union
The
Love My Credit Union Rewards
TurboTax program is a great way to offer your members discounts on America's #1 online tax preparation service, and there are great opportunities for your credit union to:
Strengthen member relationships by providing your members with savings
Capture tax refunds to grow deposits and investments - over $239B in refunds were directly deposited into financial institutions last tax season
Improve share of wallet by leveraging tax refunds to promote your core products and services
Be your members' trusted advisor, stay at the center of their financial lives by helping them get their taxes done right
Provide "everything tax" educational content from the TurboTax Content Hub to inform your members on how life events may affect their taxes and keep them update to date on all things tax.
Great For Your Members:
We share the mission to enhance member value by providing credit union members with savings on TurboTax. The TurboTax offer includes:

Exclusive Savings - Members can save up to $15 on TurboTax online federal products
The TurboTax guarantee - Calculations are 100% accurate, and members get the maximum deductions and largest refund they are entitled to — guaranteed!
Security - TurboTax takes great care to safeguard members' data so they can file their taxes confidently
Expert help - Live assistance from a CPA or Enrolled Agent, on-demand, every step of the way